It's now been ten years since the first Android phone launched, the T-Mobile G1. Google has moved through the letters of the alphabet to name successive versions of Android since the G1 and they just released a beta version of Android P at Google I/O 2018, which follows Android Oreo. Will it be called Android Popsicle? We'll know soon. But for now, let's look at what's new.
Machine Learning
Battery life is one of the most important factors of a smartphone. Both software and hardware contribute to maximizing battery life throughout the day. With Android P, Google partnered with DeepMind to create Adaptive Battery, which is able to prioritize battery power for your most used apps and services. Adaptive Brightness will now harness machine learning to understand how you like to set the brightness slider in various surroundings, helping to conserve battery life without marring the viewing experience.
Android P will also use context to suggest actions as you use your phone throughout the day. App Actions can make smart predictions and get you to your next task quicker. For example, if you connect headphones (preferably without needing a dongle), Android will surface an action to resume playing from your Spotify playlist. Actions will show up in many places, including the Launcher, Play Store, Google Search app, Smart Text Selection and the Assistant.
Slices is a more specific form of App Actions, diving deeper into specific apps. For example, if you go to Google Search and type in "Lyft," an interactive Slice will provide a price and time for a trip to work, and it's fully interactive so you can simply click to order a ride.
ML Kit is a new set of cross-platform APIs available through Firebase that will help an entire device become smarter, not just the OS. Coupled with Google's machine learning, it will give developers on-device APIs for text recognition, face detection, image labeling and more. For example, an app like Lose It!, a nutrition tracker, will be able to scan nutrition information via text recognition and automatically classify over 200 different foods with the phone's camera.
Simplicity
Android P is introducing new gestures to simplify navigation. This should also help with one-handed use on taller (18:9) phones. With a single, virtual home button, you can swipe up to see a new Overview that provides full-screen previews of your recently used apps. Smart Text Selection, which will recognize the meaning of text you're selecting and suggest actions, also works in Overview.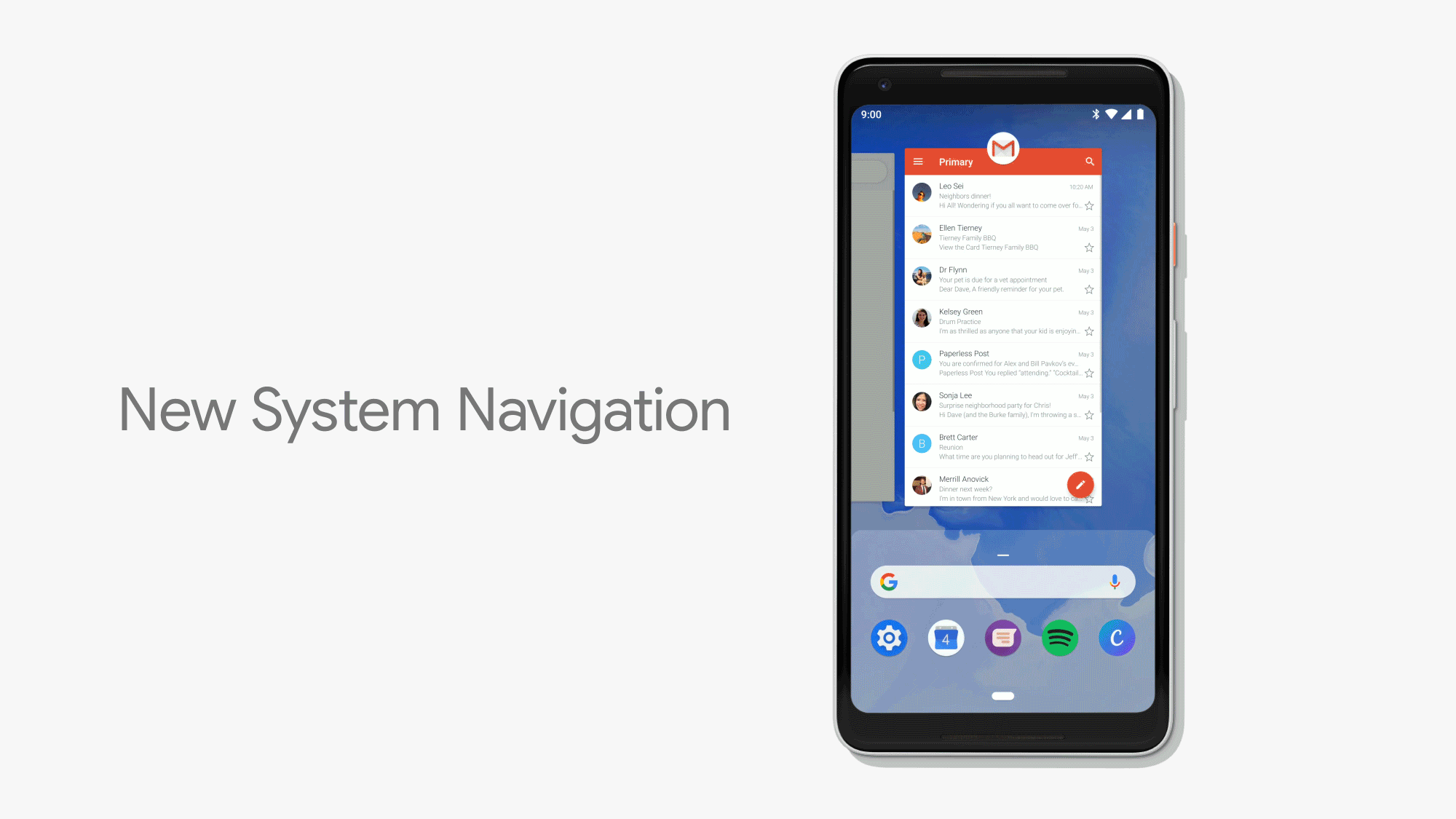 A redesigned Quick Settings provides a better way to take and edit screenshots, simplified volume controls, an easier way to manage notifications and more. These changes are relatively small, but still make a big difference in day-to-day use.
Awareness
A new Dashboard will show how you've been spending time on your device, including time spent in apps, how many times you've unlocked your phone and how many notifications you've received.
App Timer allows you to set time limits for apps. It will alert you when you're close to the time limit and then gray out the icon to remind you that time is up.
Do Not Disturb will not only silence phone calls and notifications, but also all visual notifications that pop up on your screen. A new gesture has also been added, allowing you to instantly enter Do Not Disturb mode by simple turning your phone over (face down) on a flat surface.
Wind Down will switch on Night Light (a blue light filter) when it gets dark and turn on Do Not Disturb. The screen will also fade to grayscale at bedtime to help you remember to get to sleep at your chosen time.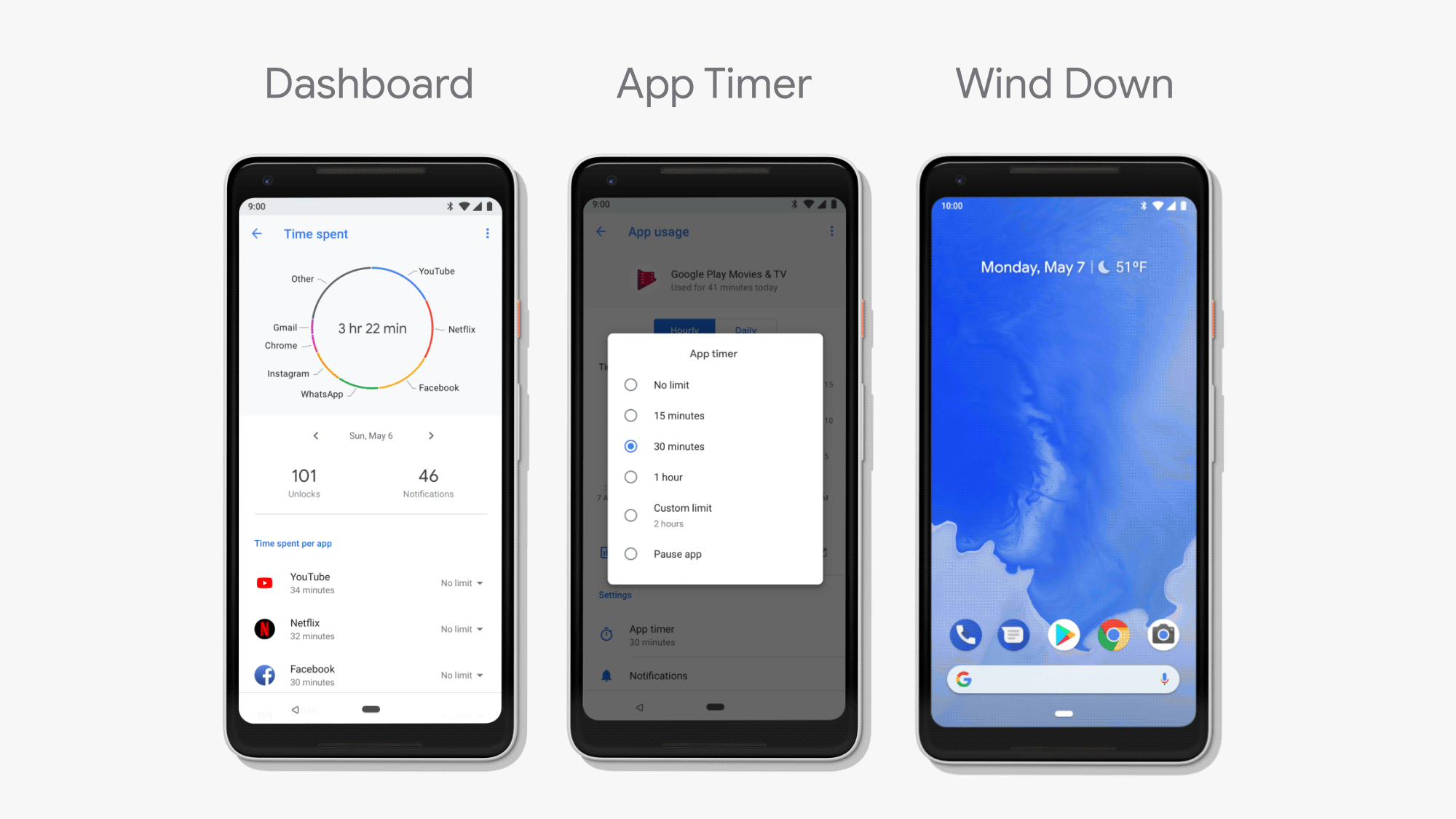 Beyond the bigger, more noticeable improvements with Android P are hundreds of smaller ones, including security and privacy improvements such as DNS over TLS, encrypted backups, Protected Confirmations and more.
Android P beta is now available on the Google Pixel and Project Treble has allowed other companies to provide it today as well. Devices include the Sony Xperia XZ2, Xiaomi Mi Mix 2S, Nokia 7 Plus, Oppo R15 Pro, Vivo X21, OnePlus 6 and Essential PH‑1. And yes, the OnePlus 6 has yet to be announced.
Source: Google
---
---