There are a slew of apps in the Google Play Store for managing your tasks or to do's, and for those of you looking for something different, you might want to try Task Radar. It's only been in the Play Store for a few days and is already getting solid user reviews. Task Radar was developed by SockMonkeySolutions, the same folks who gave us Gift Wizard. It's touted as the first AI to do list. With a simple shake of your phone, Task Radar will automatically re-order your tasks based on priorities and dates. Another feature that I've never seen before is the ability to look at all your incoming deadlines through a radar-like screen.
Task Radar's UI is gorgeous as it's developed with ICS guidelines and there are plenty of options when creating a task or to do. Each task gets a deadline date and an impact as is none, low, medium, or high, and each impact is represented by a different color. You can also type in more details about the task and categorize it as work or home. You can view your work or home tasks separately or together. As far as alerts go, you can set each individual task as off or set it to alert you at 8 and 1 hours ahead of the scheduled finish time or 24, 8, and 1 hours ahead.
For a better look of how Task Radar works, check out the video below: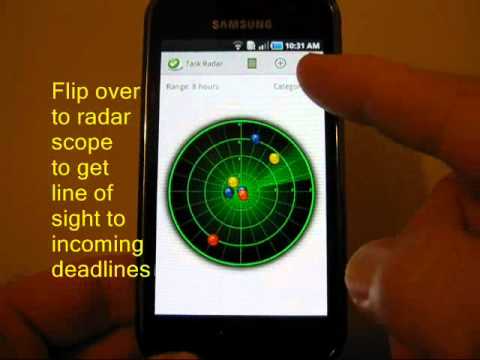 Task Radar is free, but they do have a paid version for $5.01 that removes ads. Just hit one of the links below to get started.
Play Store Download Link - Free
Play Store Download Link – Paid