Now this is a great idea. With the latest crop of superphones like the HTC One X series and Samsung Galaxy S III, Android gaming has gotten a shot in the arm with console quality games. Games such as Shadowgun, Grand Theft Auto III, and Dead Trigger are fun, but the on-screen controls are sometimes clunky.
With a simple OTG USB cable, however, some phones can be connected to game controllers for more precise, and traditional, control schemes. The GameKlip is a plastic tray that easily snaps onto a DualShock3 controller and holds your phone in the perfect position for gaming on-the-go.
There are two versions of the GameKlip. One is for phones that can connect to a DualShock3 controller wirelessly (requires a rooted phone) for $15, and the other is for a wired USB connection, OTG cable included for $23.
Hit the break for pictures and a video of the GameKlip in action.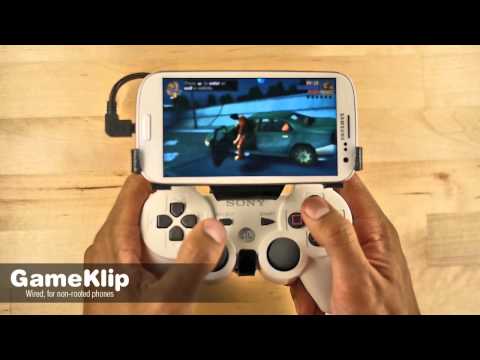 source: gameklip
via: phandroid
» See more articles by Ed Caggiani