Smart TV set top boxes, as well as full-on integrated Smart TV sets, are becoming very popular these days. But how do you make your existing TV smart without adding another bulky box to your entertainment center? Kickstarter project Pocket TV could be the answer.
Pocket TV is a small computer running Android 4.0, with an HDMI output to connect to your TV or monitor. It supports 1080p output, Wi-Fi, has 4GB of storage, a microSD slot, and is small enough to fit in your hand. It has a 1GHz Cortex A9 processor, 512MB RAM, and a USB port for connecting a keyboard or external hard drive.
Since the device runs standard Android 4.0 Ice Cream Sandwich, it behaves more like a giant touchless tablet. To get around the fact that your TV is not a touchscreen, the makers of Pocket TV have come up with an interesting way to control the device. While a standard IR remote will work, as will a smartphone remote app, you also have the option to use their Air Remote, which is basically a keyboard about the size of a phone, with gyroscopic controls. Wave it around to control the screen, like a Wii.
This novel device already passed its $100,000 goal on Kickstarter with 31 days left, so things are looking good for this to ship in October. Get your Pocket TV and Air Remote bundle for pitching in $135 now, or wait until it's released and pay $190.
Hit the break for a demo video.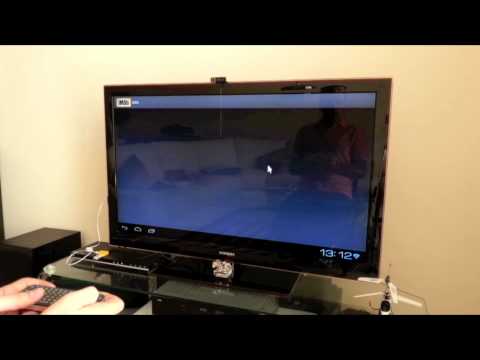 source: kickstarter
» See more articles by Ed Caggiani